Welcome to Roman Cucina
---
Your Local Italian Family Restaurant
Serving Delicious Italian Comfort Food in a Festive, Family-Friendly Atmosphere
---
Roman Cucina has been serving authentic Italian food since 2001 in a family-friendly and festive setting. Our family-run restaurants provide a casual and comfortable atmosphere that is sure to make you feel right at home. Our pastas exemplify the traditions of old-world home cooked Italian comfort food that our Nonnie (grandmother) used to make. Our family looks forward to seeing and serving you soon!  
See our NIGHTLY SPECIALS
Visit our restaurants located in Dallas TX and Allen TX.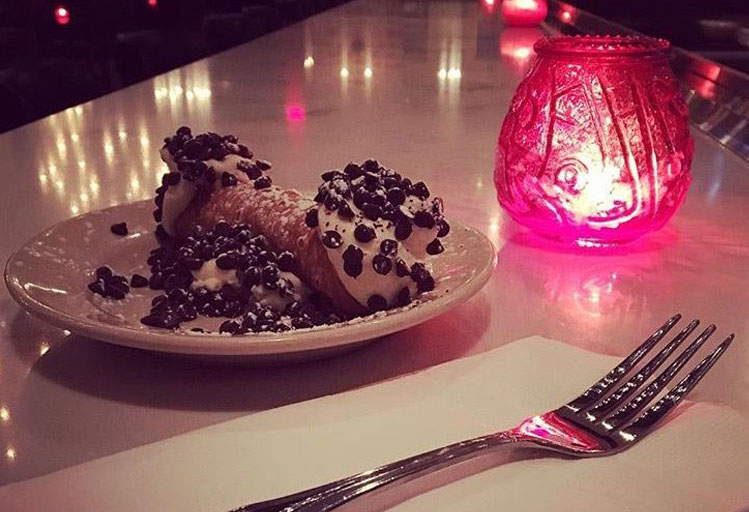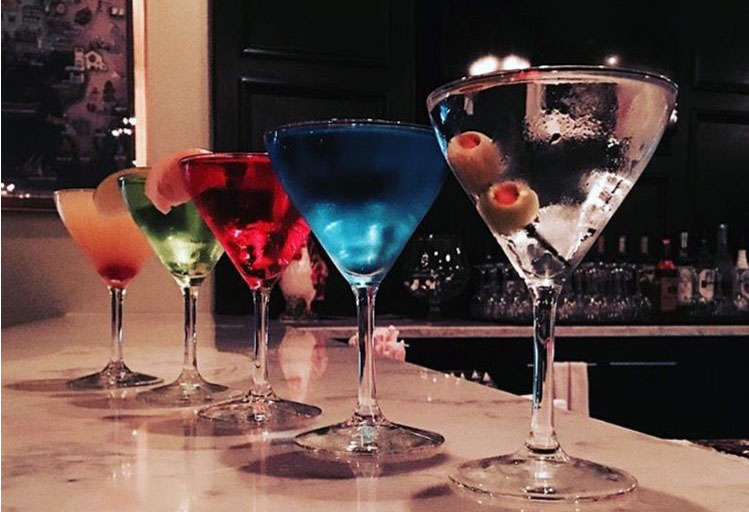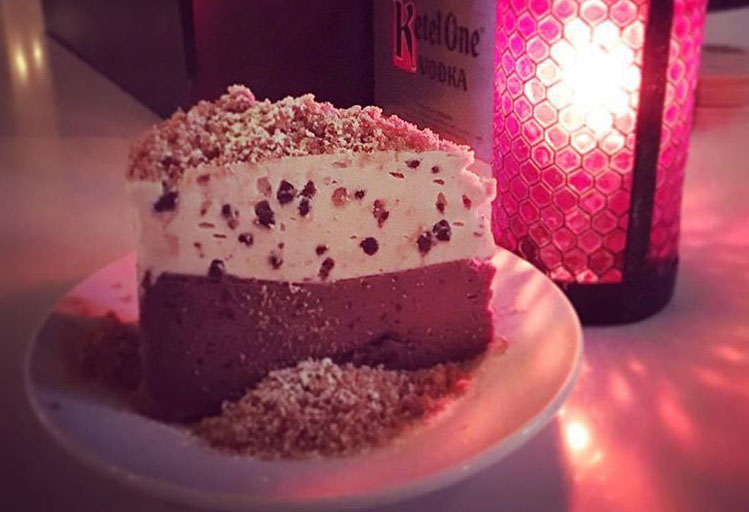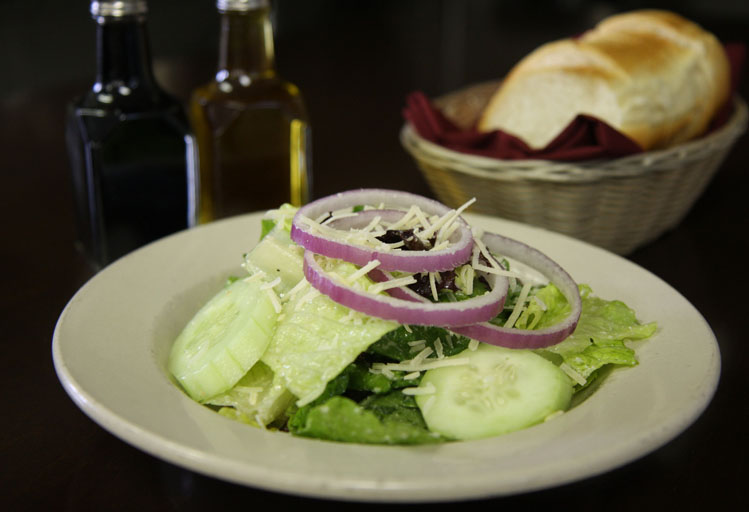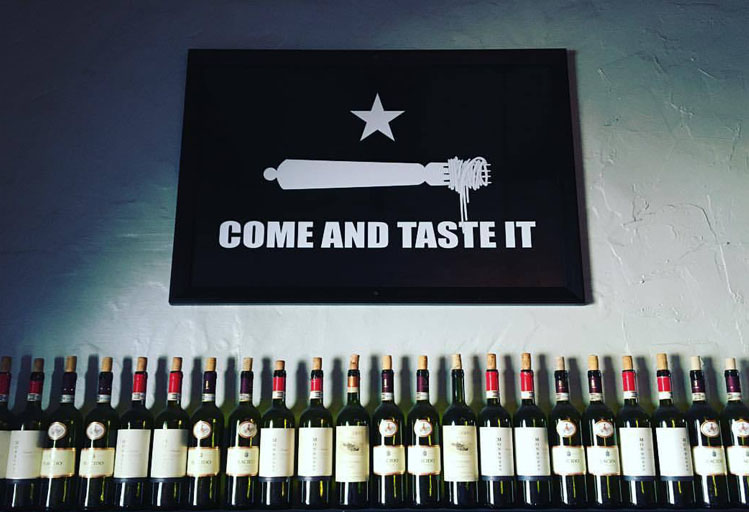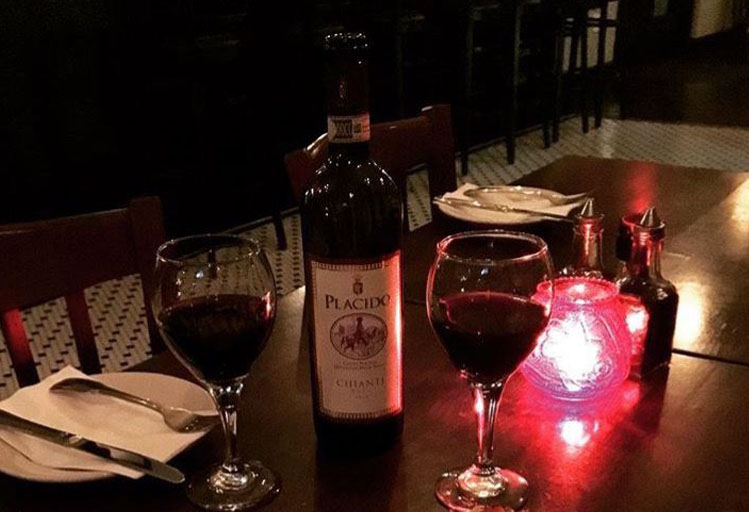 "If it's cozy Italian you want, Roman Cucina has you covered" – D Magazine
Neighborhood Find: Roman Cucina in North Dallas – DMagazine.com
15 Best Texas Restaurants – Movoto.com – Roman Cucina is #12!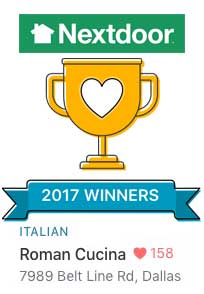 ---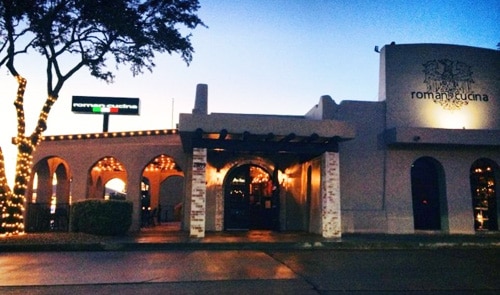 Roman Cucina Dallas – 7989 Belt Line Rd #315 Dallas, TX 75248

The bread is absolutely amazing. I was first referred here by my mother who had come before and talked about the bread and the calamari. Naturally, I ordered

some calamari. And it was the best I've ever had. If you come here, it is a MUST TRY. You won't be disappointed. I had some ravioli as well and it was extremely delicious. The service was extremely attentive. My glass was never empty which is an absolute shock (I love my Dr Pepper) I'd recommend this place to anyone who likes Italian food and nice evenings out.

read more
Our first visit here and we really enjoyed it. Very attentive service. At 6pm on a Friday, the restaurant was consistently full but there never seemed to be a

long wait for a table. Kids menu was good, but the French bread pizza was a bit too heavy on the garlic for my children. Was surprised that traditional pizzas are not on the menu at all. Our meals were a good value for the quality of our food and service. Will definitely return!

read more
Chris & Sara Bruckner
17:48 19 Aug 17
Very authentic Italian food and ambiance. I had spaghetti and Italian sausage. The spaghetti was almost angel hair and was excellent.
Larry Cotten
02:56 03 Jan 18
They train their staff to be as courteous as they are! Always an excellent experience! The food is home cooked comfort food for me!
Chris Schuster
00:56 27 Nov 17
Nice little restaurant with an intimate atmosphere. Large portions and very reasonable prices. The food is also delicious! 10/10 would recommend
George Chen
02:33 08 Oct 17
Everything was great! Came in with a group of 18 which consisted of about 10 kids below the age of 10. Being in the restaurant industry, I know how challenging

that can be. Our server Seth handled our group and all of our special requests like a pro, he was awesome! Everything we ate was delicious.. from the calamari to the spaghetti with sausage and meatballs, to the snicker cheesecake. I highly recommend to anyone looking for great Italian food with great service!

read more
dandan1769
18:25 30 Jan 18
Was the first time for me and my fiance there I bring her for her birthday and was awesome the service and food was excellent
Jorge Montoya
14:20 31 Jan 18
Delicious food! Came early as it opened - no wait. The food was fresh and tasty, well prepared. No complaints! Friendly service too. Get the Gianni!
Jeremy Cate
23:37 17 Feb 18
Great food, solid service staff, and they were swift and attentive with good execution on Valentines evening. We were a walk in, but waited at the bar and had

a nice drink. Limited bar, only a single standard brand light beer on tap and some liquors. Still, a great experience!

read more
Jason Vickery
22:32 13 Mar 18
AWESOME PLACE !! Very romantic place with excellent customer service and great tasting food. I will keep coming back again and again and on perfect night's you

can enjoy your dining experience outside on the patio....This place is great !!! I wish I could give Roman Cucina a ten star rating....Thank You guys for making every visit a great one !!!

read more
John Hernandez
02:03 18 Mar 18
My wife and I go here every year for our anniversary (as well as the rest of the year). The special was amazing. Wine selection is great. Try the house made

cheesecake.... It could open it's open bakery, it is so awesome. Can't wait to go again.

read more
Rufiothegreat
02:35 18 Apr 18
I didn't had any chance to take better pictures, but the food was excellent! We had garlic bread with mozzarella cheese with a tomato sauce to start, this

was delicious, then salad which is included by the house and i had chicken parmigiana! Was a lot of food and everything was delicious! I have to say the service was also great! We definitely plan to go back!

read more
Daniela Morales De La Riva
04:10 22 Apr 18
We love everything about this restaurant! Great atmosphere, service is always on point, and the food is amazing!!! Great for celebrating special occasions or

just a Friday night. Love the bread, house salad, lasagna, and any pasta on the menu. Great specials too!

read more
Amy Stephenson
04:01 29 Apr 18
Excellent service and the food was delicious. Been looking for good Italian food and the pasta primavera was so good. Our glasses were never empty. I loved the

great team work amongst the wait staff and our server (Seth) was very attentive. Would definitely recommend this place.

read more
dropofjoy !
02:55 14 May 18
Always get the special. You will not be disappointed. The main menu is delicious too, but the specials are even better.Cozy atmosphere. Friendly and

knowledgable staff. Excellent cocktails.

read more
Renea McKenzie
08:09 23 May 18
We eat here pretty often. Wonderful food and large portions for good prices; I always end up bringing food home. This is a place that never lets your glass

run dry either. Get here early, because it fills fast. It opens at 6! (OK, really 5... trying to give myself a little head start).

read more
Stephen Wale
21:38 23 Jun 18
Hidden Italian gem in Addison! Fantastic service, delicious food, and fun atmosphere! The prices are incredible for the portions. My husband and I joined

friends for dinner and ate at Roman Cucina for the first time. We will definitely drive the 15 minutes from Dallas to dine there again soon!

read more
Caroline Murphy
19:01 29 Jun 18
Wow. A hidden gem in Dallas. The food was wonderful and the service was attentive. Though our server lost points for not knowing if an Italian place had

limoncello. Great place for a casual date night. I would definitely recommend.

read more
Thomas Rutherford
02:19 28 Jun 18
My wife and I had an awesome experience here. The staff was wonderful. Very knowledgeable and seemed like they really enjoyed their job. From the host to the

server, we were made to feel welcome. The food is incredible! Great flavor and generous potions with prices super low. The value is ridiculous. This place is a winner. We will be back for sure!!!

read more
Davin Wall
23:21 31 Jul 18
Amazing restaurant. The portions are generous, the drinks were well made, and the food was absolutely delicious. Everything we bought was worth our money. I

don't remember her name but our server was amazing and so kind. We will be back for sure 🙂

read more
Katerina Frantzikinakis
19:35 08 Aug 18
This is our new anniversary dinner place - not because it's fancy (it's really casual, but we get dressed up for the occasion and don't feel silly), but

because it's amazing! And when we go out for a kid-free dinner, we want amazing food 🙂 The portions are large and delicious. The atmosphere inside is actually quite cozy, too.

read more
Marni Walsh
19:10 30 Jul 18
Everything about this place is phenomenal!!! We went on a Friday night with a group of six people. We had to wait 30 minutes, but they offered to seat us

outside and order an appetizer before our table was ready. Every single server/host/hostess were on top of their game, extremely friendly and just overall wonderful - our server was Seth and told us to ask for him again. And then the food! You get much more than what you pay for and the food is impeccable. I cannot praise this place enough. Please do yourself a favor and eat here, you will not regret it!

read more
Raquel Gonzales
16:04 31 Aug 18
Our entire family LOVES this place! Hands down....best Italian restaurant. Try the mushrooms (wow), the salad is always fresh and light and yummy, the pink

sauce on anything is great! Everything we have tried has been wonderful.. And always have great service!

read more
Watch your waistline because this Italian food place brings fantastic, rustic and crunchy bread to the table and unfortunately I don't have the will power to

resist. That's double trouble because I also could not resist ordering the BEST garlic cheese bread I have ever dreamed of eating. The decor is part of the experience. Classic black and white, understated elegance. Their red sauce is fantastic without overpowering your pasta choice or that garlic mozzarella cheese bread you must try, it is plenty for 4 people to share.

read more
Darren Hall
00:48 07 Oct 18
Italian food and the atmosphere at this spot is great. Looking forward to coming back with my friends. This place has a great design.
Kim Yu Dixon
02:19 06 Oct 18
This place is great! Cozy atmosphere, great food and all around good experience. Best Italian restaurant in the area bar none.
Michael Spears
07:11 10 Nov 18
Ambiance is warm and cozy....Food is fantastic. ...and you've got to love an Italian restaurant that plays Frank Sinatra and Johnny Cash! Get there early on

a Friday though. ...line is out the door!

read more
Roxanne Aranda
21:00 20 Nov 18
Excellent authentic Italian cuisine, great ambience, stellar service staff, and reasonable pricing for the quality of food ($$). Dined for the first time with

a large family group (15) and we were expertly cared for from start to finish. Would love to return.

read more
Chip Little
02:57 23 Nov 18
Whatever formula they have for running this restaurant, I hope they never change it. Every time I visit this place the service is exceptional and the food is

so rich. The taste and experience makes you feel right at home.

read more
Krystal Martinez
15:39 03 Dec 18
Excellent experience. Phenomenal wedding soup cake and lasagna bolognese. Well made house salad and the shrimp/ mushroom dish was decent. They did bring us

some burnt bread at first, making me think the rest of the night would be terrible as well but everything else after the burnt bread was excellent. Love this place. It's a hidden gem.

read more
DonePayingFor PoorQuality
23:42 17 Dec 18
Roman Cucina is my favorite casual Italian restaurant in DFW. Their food is consistently good - I typically get the daily ravioli special. The portions are

very generous, so plan on having leftovers. FYI: the Allen location is bigger than the Dallas one, making it better for large groups. Also, the Allen location serves pizza whereas the Dallas one does not.

read more
Abby Stout
21:39 28 Dec 18
Honestly the best Italian food I have ever had! Great appetizers and food, and the customer service was great as well! My wife and I already have plans to

return!

read more
Clayton Iglinski
00:33 09 Jan 19
italian food... yummy. the service here is outstanding. reminds me of a place in new york i loved to visit.
Diego Frye
22:50 20 Jan 19
One of my fav spots for delicious Italian food. came in on a weds. service treated us so nice. it has a nice feel to it.
Jayden Guzman
23:44 25 Jan 19
This is our weekly date night go to. The food is always excellent, the service is really very good. And Wed is 1/2 price wine bottle night!!!!
Kimberly Morisak
21:26 27 Jan 19
Really good Italian food with great service. One of those places you go to feel like you at home getting a nice home cooked meal. When I come back to Dallas,

this is one place I would go back over and over. I highly recommend.

read more
Damion Wright
11:25 26 Feb 19
Wow! You walk in this intimate restaurant and the scent of savory garlic and other great smells are enticing. The staff was beyond good, several people asked

if my food was good, if I needed anything. The Wedding Soup is wonderful! I had the pasta with shrimp, langistinos, and mushrooms sauteed in spicy Olive oil. Wow. Wish we had one of these places in Oklahoma City, where I live. My new reason to make more business trips to Dallas. I will be back!

read more
Ginger Jackson
04:07 13 Mar 19
Excellent environment to sit down and have a great meal. Atmosphere is relaxing and food is amazing. You won't be disappointed. As a side bonus their bread

is very tasty and served warm. Very impressed.

read more
Dan Ramirez
01:15 28 Apr 19
Great place with great staff. Pretty much everything on the menu is super delicious. Portions are great and you will have leftovers too. We go here every week

these days. Love this place. Thanks Roman Cucina for being awesome.

read more
Pratik Sarangi
03:20 08 May 19
Italian food and the scene at this location is great. normally i would have posted a pic but food looked so good i couldn't stop. i had a brother come into

town and asked me to take him back here. the place has an awesome feel to it.

read more
Shawn Campbell
01:17 12 May 19
My top place for tasty italian food. I love snacking here. The staff was very helpful and welcoming. Prices were reasonable. Food is similar to a place in San

Francisco I loved.

read more
Marilyn Pierce
11:05 16 May 19
We came here in the primal search for good food to eat while in the area. Saw this place had good reviews so we decided to try it and I'm glad we did.Very

romantic looking on the inside with the string lights and dim atmosphere. I loved the fact that every waiter/waitress that passed our table asked if they could refill our drinks or get us anything else. It seemed like a good team they have going here. Food was great. We had the sausage lasagna with the soup and bread. Very generous portions. Couldn't even finish half of my lasagna. Waiter even bagged my leftovers for me. The only con is that the food was a little too salty for my taste. I thought maybe it was my own tastebuds but the hubby agreed that there was just a tad too much salt. Not so much that I couldn't bear to take another bite, but enough to notice. Other than that, great place with great food. Hopefully we'll be back if we're ever in the area again.

read more
italian food and the scene at this spot is very good. the fool was super appetizing. the staff was very helpful and observant. prices that won't shock you.
Mathew Bass
03:24 25 Sep 18
Went here for dinner on a Sunday night and enjoyed it. The service was friendly, food tasted good, and the portions were generous. Splitting the bill caused a

bit of confused to the waitress as we tried to subtract cash and put the rest on a card which should've been simple but was not. I'd definitely come back here and try out more dishes.

read more
Jennifer Haber
19:53 18 Jan 19
Fine location for quality Italian food. service is consistently great. it has a good atmosphere.
Stanley Strickland
11:12 20 Jan 19
I had a spinach and cheese (ricotta?) stuffed tortellini dish. Cooked with a garlic sauce and Roma tomatoes. It was actually fantastic. However, this item was

that day's special, and compared to the portion sizes of the menu items, it was rather small. That kind of threw me off. But everything else was fantastic, including the staff.

read more
Gavin Vaught
21:52 02 Mar 19
Family friendly neighborhood Italian restaurant. Quality Italian food in a great atmosphere with consistently great tasting appetizers and entrees. Decent wine

selection as well for what they seem to aspire to be - a great neighborhood Italian restaurant. Always a crowd so they are doing something right!

read more
Nate Steiner
11:47 20 Mar 19
---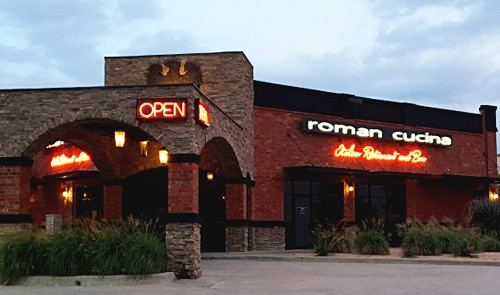 Roman Cucina Allen – 201 E Bethany Dr #1 Allen, TX 75002
Always the best service when Becky is here!! Becky truly cares this evening a couple showed up at 9:50 and she still went over the top to give them the best

service even though they close at 10:00. They got full meals and full service!! Becky truly cares!!!

read more
Angie McCalment
03:56 21 Jan 18
Very enjoyable. Excellent food, especially good lasagna, with options. The staff and barman now remember us, perhaps do to my somewhat unusual cocktail

orders, making the experience something like you see in James Bond movies where they meet him at the door with "Welcome back Mr. Bond". 😉

read more
Allen Hilburn
17:48 28 Oct 17
Absolute worth the wait when there is one. Appetizers are delightful, had the calamari perfectly cooked with just the right chewiness. Bread comes with the

meal and it is a perfect crusty bread. For main meal had the mushroom ravioli, the filling was perfectly balanced. The sauce was decadent and wonderfully flavorful. I look forward to the next time I am fortunate to be in the area again so that I can eat here.

read more
George Weilenmann
21:43 15 Aug 17
I love my hair.Jessie is so good at letting you know if what you want will work for your face shape and skin tone.Have been using him for years
Kimberly Higgins
18:41 09 Dec 17
Delicious food. Clean, fresh and friendly atmosphere. Wait staff is great! Will be back.
Karen Peterson
01:41 01 Feb 18
This place is amazing. Delicious food and large portions. It is our favorite Italian restaurant.
Had a wonderful evening with our family. Service was top notch and the food was plentiful and delicious
Laura McBride
15:24 11 Feb 18
Some of the best Italian I have eaten. Start with the bruschetta (sp). I really like the calzone, pesto instead of marinara for dipping.
Amazing food!!! So good, if you want a suggestion I usually get the house salad or the fettuccine Alfredo pasta with chicken. I have had big party orders and

it tasted just as great..we got 4 pans of pasta and 1 pan of salad. Definitely recommend!

read more
Marley Hall
18:19 25 Feb 18
There is a wait usually about 10 to 15 minutes even though they may tell you about 30. The food is good that is for sure. Authentics Italian and it is such a

plenty that you end up having to take some home. The atmosphere is a little loud a little dark or should I say romantic evening light. So make sure you take your reading glasses. Other than that everything else is just fabulous and the servers are very friendly and knowledgeable of their food products

read more
Lydia Mendez
14:32 01 Mar 18
Awesome place to eat at! Bring the family with you. Great food.
John Hunter
05:30 12 Mar 18
AAAAAMAAAZIIINNG!!! Great customer service, Wonderful tasting food, Large portions of food, Delicious drinks! I'm shocked to go to a business and everything is

downright perfect. This is my new go to Italian restaurant!!! Thank you guys!!!

read more
Amanda Hale
02:28 27 Mar 18
Excellent food, great Service. Will definitely refer our family and friends.Food portion was great as well. Highly recommend it.
James Crawford
12:15 03 Apr 18
Excellent Italian food. Soups and salads are very fresh and tasty. My kids love their pasta dishes.
Natalia Hunt
01:14 13 Apr 18
Great everything. Love the pastas, salads , and pizza. Our favorite place in Allen
scott woods
17:05 20 Apr 18
Looooooove it! Tonight was our first time going tonight and we were pleasantly surprised. Service and foot we're on point and we loved the more traditional

Italian offerings on the menu.

read more
Zack-Cat Williamson
03:15 04 May 18
We order a carry out meal tonight, I'm actually just finishing my desert as I'm typing. The meals were both perfection! Now, for dessert we ordered the Key

Lime Cheesecake... I can die a happy man. The crust is graham cracker, obviously, but it's extra buttery and semi caramelized on the back side. The cheesecake filling itself is unbelievably perfect, taste and texture. The key lime filling is light and fluffy. The whole slice is covered with graham cracker crumb which is delectable. Seriously, they're over here making Cheesecake Factory look like they've got kids in the kitchen.

read more
Brian Garcia
03:21 12 May 18
Great food. Good specials. They always have a special dish that is really good. The sauces taste fresh and wonderful
Tanya Gould
13:12 17 May 18
Our new go to place for Italian. Olive Garden pshhhhh, not anymore! Best Italian food I've had since i visited Little Italy in New York. Very impressed.
Christopher Moore
01:42 21 Jun 18
Great food, nice atmosphere. The best restaurant food and service I've had in years. I had the shrimp and pasta. Mmmmmm good! 🍴🍤
I love this place! I was so impressed. Friendly staff, great quality food, and awesome prices! Although, I wish they were open during lunch hours! If you love

Italian food, come here! Also, great ambiance and Italian feeling.

read more
Amisha Kumar
16:57 05 Aug 18
Good, welcoming atmosphere for this Italian restaurant. Decently-priced, delicious items on their menu, friendly staff, and plenty of conversation pieces on

the walls. Possibly the one weakness of this establishment? The wait time for a table at dinner time and the wait for the food to be delivered.

read more
Zachary Claiborne
04:49 25 Aug 18
Amazing food and even better service. I think we were waited on by the entire staff. At least 6 different servers waited on us. If they passed by our table

they would refill our drinks, bread, or take away dirty plates. My first of very many visits.

read more
rgonzales31
04:37 02 Sep 18
This place was phenomenal. They service was exceptional and so was the food. We are looking forward to our next visit.
Briana Wyrick
12:23 08 Sep 18
I've ordered party-pans several times and they never dissappoint! The staff is very quick and courteous at responding and delivering. Great service and great

food - can't ask for anything more! Thanks Roman Cucina!

read more
Neha Patel
17:24 15 Oct 18
This will probably be my favorite Italian restaurant... The food was excellent, presentation was beautiful, portion was perfect, service was superb, and the

price was... well, I can't complain. On weekend evenings, you will have to wait for you table unless your dinner is at 5pm... Our family is coming back real soon...!

read more
steve Chung
22:42 09 Oct 18
The staff was so nice. The food was amazing. Best Italian restaurant in the area. I will be back.
Latasha Allen
20:34 27 Oct 18
Great place....its my wife's favorite restaurant. I see some reviews about not being authentic Italian. I'm not sure about authentic, but its great American

Italian. I love the bread, possibly the best lasagna anywhere huge portions, full bar. Great staff, very busy on Fridays and Saturday.

read more
Richard Butler
22:36 15 Nov 18
Ashamed I live less than a mile from this place and I've never tried it before. The wait staff was amazing and very attentive! Food was fantastic and we

enjoyed our meatball appetizer and fettuccine entree. The restaurant is very well laid out and super clean!

read more
Angie Sanchez
17:39 18 Nov 18
Awesome atmosphere and great food!! Staff is outstanding and prices are unbeatable. By far the best pasta around!!
christie cox
14:55 05 Dec 18
I have been here a dozen times and have never been disappointed. There are many of the traditional Italian meals, but there are also many house dishes that

are great. Half price wine bottle on wednesday night is the only excuse we need.

read more
David Shaw
17:03 18 Dec 18
Roman Cucina is the best gem in the DFW. The service is FIRST CLASS! The food is AMAZING! Everything about this place is TOP NOTCH!
Jordan Downs
23:54 16 Dec 18
My Favorite Italian restaurant! The staff is usually friendly... usually. There is generally a wait even on weeknights so go off peak hours. The chicken parm

is so good! So is the shrimp pasta and the bruschetta!! Everything tastes fresh, and the atmosphere is nice! Great for a date night or a night out with the family.

read more
Jacki Maher
01:49 13 Jan 19
Best Italian I've had in a while! We had 4 different dishes for each member of the family and each one was fabulous! We will be back again asap.
YUM. We came in around 5:30-6 on a Sunday night and were seated right away. The restaurant was busy, but not packed. Great space and ambience. Enough noise so

I didn't feel stressed about having my 1yo boy with us. Waiter was cool. They brought out warm delicious bread my husband took down and the house salad was fresh and tasty. He had the chicken Alfredo and I had the creamy lemon sauce and shrimp. Came out fast, hot and pretty. We both devoured our entrees. It was SO good!! Thank you.

read more
Catherine Moyer
00:45 21 Jan 19
Excellent Italian food good mix drinks, service was great, good atmosphere. We will definitely be a regular. Keep up the good food and

service.👏🏻👏🏻👏🏻

read more
Austin and Brett were our servers. Both were great but Austin was absolutely amazing and the food was hands down some of the best I've ever had!! The

atmosphere was perfect. I was in town from VA and this was the best restaurant I've been to in a long time!!!

read more
Awesome for dates. So so fresh. Good Italian food. The server we had was in a huge rush had to tell him we be there a long time so please slow down. The table

behind us had to do the same. Wouldnt base that on a return trip. Excellent. Wish they had chicken picatta though. 🙂

read more
Deana Dykeman
15:24 14 Feb 19
Excellent Italian food, with friendly service. Their pizza is great. Service and food quality is consistent from visit to visit. Very reasonable prices. This

place gets quite busy, especially on weekend evenings. It's worth the wait.

read more
Can't give them enough praise. The food was perfect and drinks wonderful. Good service what more do you want
Cassandra Montoya
02:14 24 Feb 19
They served the best Gluten Free Italian entrees that I have ever eaten. I had to doublecheck with the waitress to make sure there wasn't a mistake. It was

that amazingly delicious. We will be going back!

read more
Mitzi Stolarski
13:38 04 Mar 19
Great people and really good food. They are just open from 5:00 to close. Wish they were open for lunch. You have to go there for a great meal. You won't be

sorry. There bread is to die for.

read more
Don Goldammer
13:31 25 Mar 19
One of our Favorite places to eat! Food is wonderful! Also the Gluten Free awareness and food is a huge plus to our family... Owners and the staff are the

bomb..so happy this restaurant is in Allen!

read more
Bill & Julie
17:41 04 Apr 19
Wow! Great Service every time. This is our close to home go to. Wait staff keeps the glass full and empty plates off the table. Food is some of the best

Italian you can get without a passport. Decor is nice and comfortable, bathrooms are clean as is the rest of the restaurant. I will keep going back and I tell my friends about this little get away.

read more
The food here is amazing and the service was great! They even have a couple pasta-less options if you would like to be on the lighter side (pasta-less shrimp

is awesome). Will definitely be back to try more.

read more
Tina Bryant
13:13 04 May 19
Can't believe I have been in Allen since 2011 and never ate here. I did eat here for the first time this evening and I can't wait to come again. Great

establishment!! Food was scrumptious

read more
tina rhodes
02:06 02 May 19
This place is true Italian food and simply delicious. The three men who own this place are very hands on and always in their restaurants. They rotate between

the Allen and Richardson restaurants and they take care of business. So service is always good. The food is delicious. They will tell you their menu/recipes come from their Italian mother and it's good food. I love the Mozzarella garlic bread, the Gianna and the Italian wedding soup. Drinks and wine are also good. Love this place.

read more
Jimmie Prestwich
05:18 21 May 19
Great food, all four of us got different pasta dishes & they were each delicious. Mine was gluten free & it was wonderful. Our waiter was incredibly helpful so

service excellent. Will definitely be back!!

read more
Karen- Smith
13:45 16 May 19
We had the rehearsal dinner for my son's wedding there. Highly recommend this place! The staff is Awsome, the food amazing and the price very reasonable. We

will definitely be back again and will tell our friends about our great experience! Thank you#

read more
Inge Henricks
00:53 31 May 19
This place is true Italian food and simply delicious. The three men who own this place are very hands on and always in their restaurants. They rotate between

the Allen and Richardson restaurants and they take care of business. So service is always good. The food is delicious. They will tell you their menu/recipes come from their Italian mother and it's good food. I love the Mozzarella garlic bread, the Gianna and the Italian wedding soup. Drinks and wine are also good. Love this place.

read more
Perren Pilmoor
02:13 05 Jun 19
Great atmosphere and great staff. Food was good, not the best I've ever had but it was good. I'll definitely go back.
Derrick Heydari
05:20 10 Jan 18
Great ambient and food. The pesto pasta with chicken was great. Big portions!
Lori Chambless
01:10 11 Mar 18
Attended a wedding rehearsal dinner here. Service was great. They couldn't have been nicer to us. They even made special arrangements for a couple of people

who had special food needs. The food itself was good, not great. I'm not certain about prices since I didn't have to pay for anything. The ambiance of the restaurant itself was nice. Overall, I enjoyed the experience very much.

read more
Jason A Clark
15:46 11 Jul 18
The food and service that we recieved was excellent. Not giving 5 stars because they don't have artichokes on the menu, or even in the kitchen. The Capresse

Salad was less than desirable, they left all of the slimy tomato guts, and the mozzarella cheese was the little balls that come packed in water, not the higher quality stuff.

read more
Paul Brooks
20:47 17 Aug 18
Great food, great service. Ordered the Crab ravioli special, and wow, it was great, no imitation crab either! The spaghetti and meatballs dish was 'amazing'

she said... After a few tastes, I took some more, almost got stabbed but it was worth it. Going back!

read more
Kendall Borg
13:01 30 Mar 19